---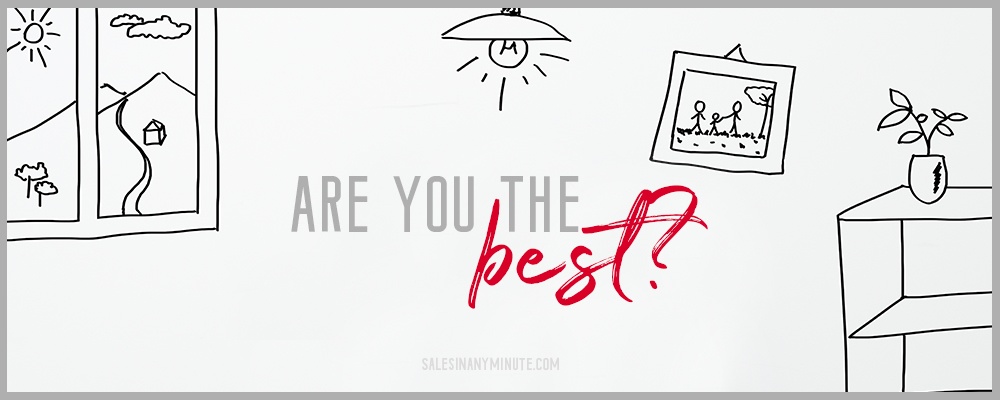 Imagine that youve landed your dream job.
Its your first week, and your manager says to the ten new-hires, Look around the room, only one out of every ten people will be here in the next 36 months. Will you be the one?
In the world of commercial real estate sales, the rate of attrition in the first year is 90%. REALITY: You need to figure out how to become THE one out of ten.
You do that by focusing on how to become the BEST:
BEST worker
BEST social media attractor
BEST property lister
BEST appointment maker
BEST property shower
BEST negotiator
BEST deal maker
My friend Robin Fisher is a Senior Managing Director at Newmark Grubb Knight Frank. She has not only survived a cutthroat selling environment, but she is known as one of the best of the best. I sat down with Robin to learn about how shes become so successful. Whether or not youre in commercial real estate, Robins tips can lead you to the best sales success.
Keep in mind, most people dont have the stomach for sales. Dealing with rejection, developing relationships, being persistent, performing independently and holding yourself accountable to your own outcome are the elements you must master.
Robin did.
Robins Sales Success Secrets are NOT so secret. Here are Robins secrets to success:
Work Hard
Robin says you must work hard. What she means is, work your ass off. You have to be ready to put in 12-16 hours a day. Her typical day begins at 5:30AM. From breakfast meetings, conference calls, prospecting meetings, space tours, calls to transact business, replying to emails
Be Accessible
Make certain youre accessible when people call and email. Be ready for lunch meetings, to have drinks or dinner after work, and then finally sleep and repeat. Im tired just thinking about it!
Network Efficiently, Effectively, and Consistently
Show up There are so many opportunities that the act of networking can be overwhelming. If you show up, you could meet someone who changes your knowledge base, client base, and experience base.
Everyone you speak with can potentially give you business. Ask the right questions to find out who and how you can be connected. Find the right people who will give you the time and courtesy of a useful response and answer.
Theres no replacement for face time and introductions dont happen the first time you meet. They happen the fourth, fifth, sixth, or even seventh time. Dont give up be patient. Building relationships sometimes takes years.
You must create mutual respect through thoughtful follow up and by sharing value/useful information.
Treat people the way you want to be treated. Wait, didnt your mama teach you that? From an admin to your client, your referral source, or someone looking to you for help. The person looking for help may know your next three clients; once you develop a relationship with them, youre set!
NOTE: Thoughtful follow up means following up with relevant, intelligent information on a consistent, but not pushy basis. Once a quarter, send something that makes you think of your client or prospect thats relevant to them something they would want to read. If they see your name frequently and associate it with value, then when they need you theyll remember you and reach out.
Differentiate yourself with value
When beginning your career, people may not take you seriously. Demand respect. How? CLOSE DEALS. No one can argue with closed business. When Robin was just starting, she spoke to friends parents, parents friends, cold called, and networked with anyone who would listen.
Grow a pair
Robin didnt mention this one, but she has balls. Sales balls. In NYC, you better have BIG sales balls, or youll get crushed by someone who does. When things dont go your way, pick yourself up and brush yourself off. Go to work the next day and focus on something else, something positive.
Stand out by being outstanding
Robin gains credibility upfront by offering value. She offers advice and information prior to securing the client, on the initial call. Many salespeople (not you of course) dont even take enough time to research the client and their needs. Robin has a sincere desire to form long-term business relationships, and it shows in everything she does, by offering value upfront to follow through. Would your clients say the same about you? And, she has a positive attitude all the time. This stands out in New York.
Dont ask Robin, ASK YOURSELF: Whats your day like? Do you work your ass off? How do you differentiate yourself? Whos in your network? Whos in your informal referral network? On a daily basis, Robin meets with current customers, potential customers, AND referral partners daily. Do you?
I have just given you the formula of a woman who made the one out of ten at the start, and has become one in a million in her chosen field. To follow in Robins footsteps, all you need to succeed is a great attitude, an impenetrable belief system, a drive to be the BEST at whatever you do, and a pair of track shoes.

podcast
LISTEN TO THE SELL OR DIE PODCAST WEEKLY
With co-host Jeffrey Gitomer, we bring in top sales professionals to give you the best advice to kick your own ass.