12 Lessons from Uber – How to Transform and Dominate your Marketplace.
---
REALITY: Uber is dominating their marketplace. Any questions?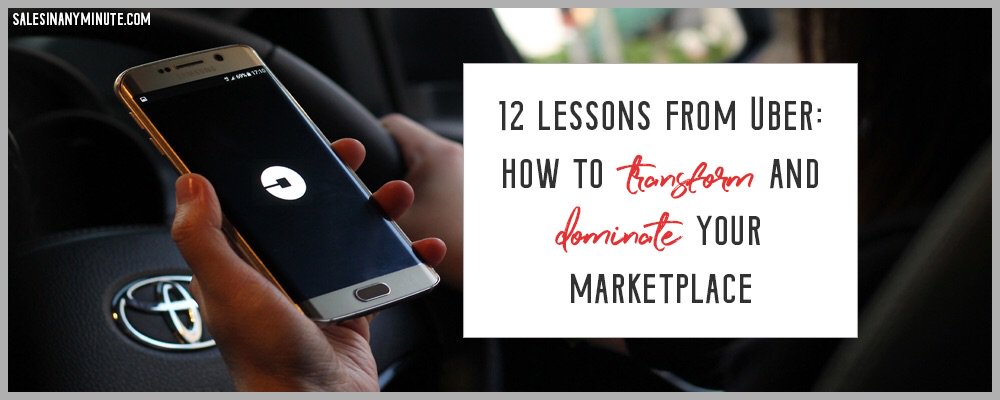 Nine years ago Uber revolutionized the public transportation industry, and forever transformed the way it does business. They kicked taxi and limousine companies to the curb, and while there are many other copy-cat companies who have entered the marketplace, Uber is still the gold standard.
Uber, like Kleenex and Jell-O, is now the noun and verb of their category.
Uber grew from nothing to a 62 billion dollar company in just 7 years. Their 75-year old competitors fell asleep at the wheel, and are just now trying to catch up both on a technological and service level.
For many, most, perhaps all, of their competition, its too late. The public transportation industry has changed forever. In fact, their competition hates them so much that many are trying to win by suing Uber, trying to get back to the pre-Uber days.
Hello! Wake up and smell the coffee. The taxi/limousine/car rental transportation industry is changed forever.
Uber has redefined the public transportation category and theyve made it about what customers care about getting there safe, a clean car, a courteous driver, someone who speaks your language, and the ease of doing business right at the tip of your hands, errr smartphone.
Sounds pretty simple, right?
If its so simple, why did the taxi and limousine industry not think of it?
YOURE NEXT: Is your industry behind the times? Dont get caught off-guard by the next Uber in your industry. Theyre probably already getting ready.
By looking at how Uber transformed the old way of doing business, from hailing a taxi to a newer, easier, better way that is not even considered the new way, but rather, the norm and expectation, you can learn how to transform your business, and capture your elusive leadership position.
12 lessons you can learn from Uber that will help you dominate your marketplace:
1. Reliable. They arrive when they say they will. Theyre available in the cities they are available in. How reliable are you?
2. Real-time updates. The ability to see where your car is prior to it arriving is like being able to track your amazon box when it hasnt arrived. That ability is now an expectation. Theres no guessing (or lying) by the dispatcher, and you can pull the information during the trip as well to make sure the driver is on the best path to get you to your destination. How good is your two-way customer communication?
3. Total communication with driver text or phone. If you cant find them or want to give them specific instructions, all you need to do is call or text. Being able to reach them on their mobile phone gives extra peace of mind. How easy is it for your customer to reach you?
4. SERVICE BEFORE. Before you even step inside your car, you can get the drivers rating, and know exactly what to expect. Plus, the drivers contact you to let you know where they are. Most are even friendly and seem excited to be picking you up. Your challenge: How proactive and how friendly are you with your customers?
5. SERVICE CHECK AFTER. After your ride, you are required to review the driver. Imagine if your customers reviewed you after each sale. Would your level of service go up? Your challenge: Act as if your customers are reviewing you with each sale whether they are or not. Would your customers give you a five-star rating?
6. Amazing technology. The technology is so amazing that other companies have Uber-fied their businesses, using similar concepts to deliver on-demand services in other industries. Funny too that now all of a sudden the taxi companies have an APP. An App that very few will use. An APP they could have had 5-years ago. Theyre 5 years late and several billion dollars short (just ask the Yellow Pages about Google). How amazing is your technology?
7. Value based pricing. A while back, I tried to get a car in a torrential downpour. I was leaving dinner when the sky opened up, and the restaurant was so packed that there was no place to even wait inside. We all waited outside in the pouring rain, and when I searched for an Uber, I noticed surge pricing. Everyone wanted a car at the same time, so Uber raised their prices, knowing that customers would place a higher value getting a car during the torrential rain than at 3 PM on a bright sunny day. Do you think I went for it? Of course I did! This is no different than a hotel raising their price during the season, or the airlines raising their prices as seats begin to fill up. The only difference? Uber is upfront about it! And although this Uber feature may be debated, their transparency wins. How transparent is your pricing?
8. Exceptional service before, during and after the sale, especially if something goes wrong. Friendly service is now a GIVEN at Uber. They make you rate the driver and the experience. And the driver rates YOU! And if something goes wrong Uber gives you an IMMEDIATE refund, no questions asked. How 5-star is your service? Why dont you let your customers rate you?
9. Easy to do business with. Pre-Uber, you would call a cab company, wait for them to answer, and a matter-of-fact person would take your order. You ask, When will the cab be here? Their response would be a guess and hope that they would make it to you soon. Sometimes, Id hear 10 minutes numerous times until they were 40-50 minutes later than the original stated time. Now, waiting 10-15 min is an eon for Uber. If you see its 15 minutes away, youll likely choose not to take it! Uber has put the dispatcher in your hand, and you have ALL your answers in nano-seconds. How easy is it to do business with you?
10. No exchange of money. 100% credit card. 100% easy. 100% seamless. How seamless is your transaction and interaction?
11. Feel safer clean car. Cleanliness and safety may just be a small part of the Uber experience, but its a very noticeable one. How clean and safe is your place of business?
12. Its a total experience, not a cab ride. Youre amazed by the technology, your ease of doing business is remarkable, the service is friendly and helpful, the car is clean, your trip is safe, the transfer of payment is seamless, everything is totally reliable, and at the end you rate your driver and the experience. Its beyond brilliant, its dominant. How 5-star is your customer experience?
And most important, they have created the desire for both loyalty and referrals. You want to do business with them again, and are most likely to tell others about your 5-star Uber experience.
Is there an Uber in your future? Want to dominate your marketplace?
Heres what to ask yourself:
Whats missing in your industry?
Hows technology in your industry?
How could an APP help serve customers better?
Ask yourself, are you giving 5-star service?
Take a ride as your own customer, and then rate yourself. How did you do before the sale? After?
Challenge yourself what can be improved that will make your customer experience 5-star?
Same for your employees. What can you do to make their lives easier, more enjoyable, more profitable?
We are living in an Uber world.
How Uber are you?

podcast
LISTEN TO THE SELL OR DIE PODCAST WEEKLY
With co-host Jeffrey Gitomer, we bring in top sales professionals to give you the best advice to kick your own ass.